True Foods is a 100% Australian owned and operated family business that was established in 2001 as a specialist manufacturer of flat bread products. From humble beginnings, we have grown to become the largest Australian owned manufacturer of Tortilla Wraps, Flatbread products and Bakery Snacks. Supporting this is a supply chain that distributes significant volumes of shelf stable, ambient and frozen products nation-wide. 
Innovation is a driving force of True Foods, and we are proud of the many successful products that we have developed and continue to produce for a broad range of partners – from large multinational supermarket brands and international franchise groups to weight loss companies, health food chains and major QSR restaurants.
In late 2011 we purchased a major production facility in Maryborough, regional Victoria. The 27 acre site has 3 acres under roof, and has facilitated enormous growth in our workforce and production capabilities. Through ongoing re-investment in the region, we have the capability to produce Wraps, Tortilla, Naan and Roti bread, Sheeted bakery products, and Bakery Snacks like Crumpets and Pikelets.
Through segregated production spaces, we are also able to produce specialist Gluten Free and Organic Wraps.
With a healthy appetite for growth, we continue to invest in new capabilities and capacity to bring innovative new products to market for our partners.
Vision
True Foods will be Australia's "go-to" provider of specialty and value-added bakery products. Whilst doing so, we will consistently strive to make all our stakeholders smile.
Social/Core Values
At True Foods we have always held the belief that it is the people behind the process that make our products great. Our people have a passion for teamwork and innovation and most importantly for delivering quality products to all our customers. We strongly believe that it is people that make a business what it is and with this in mind have created a safe and healthy working environment, ensuring that all of our employees both work safe and get home safe. 

Our management team has been drawn from backgrounds as diverse as food manufacturing, food technology, logistics management, corporate finance and marketing. This enables us to understand, predict, and overcome many of the hurdles encountered when taking a product from an initial concept, through to successful release and then onto defending its position in a highly competitive market.

Since moving to Maryborough in regional Victoria, our work force has grown to over 250 people and with it our passion for producing quality products that our customers love. For us, this business is all about being True to our beliefs, True to our products, but above all, True to our customers. Our team is passionate about producing quality products that truly live up to expectations. We are confident that you will enjoy eating our foods as much as we enjoy manufacturing them for you.
Capabilities
True Foods is currently able to produce a broad range of products, including: Tortilla Wraps, Dipping breads, Pizza bases, Naan bread, Chapatti Wraps, Roti bread, Crumpets, Pikelets and other batter based products. With the commissioning of a new sheeting line, we are constantly increasing the range of products we offer.
Our products can be delivered fresh, frozen or shelf stable.
Because of our ability to run segregated production, they can be allergen free, Gluten Free, Organic, Kosher or Halal.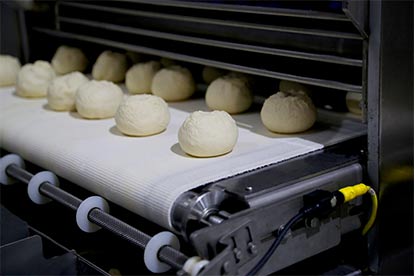 Delivering the Goods
True Foods supplies around 40% of the Tortilla Wraps sold in the Retail bakery category, under a number of well-known household brands. This is complemented by a large and growing presence in the Australian Foodservice market.
Part of our success is an understanding and commitment to efficiently managing the national distribution requirements of our partners. We understand that making the best products is worthless, if we cannot get them to the right place at the right price.
Our Supply Chain Team is highly experienced in moving vast volumes of ambient and frozen product around Australia, and dealing directly with all major Retail and Foodservice partners.